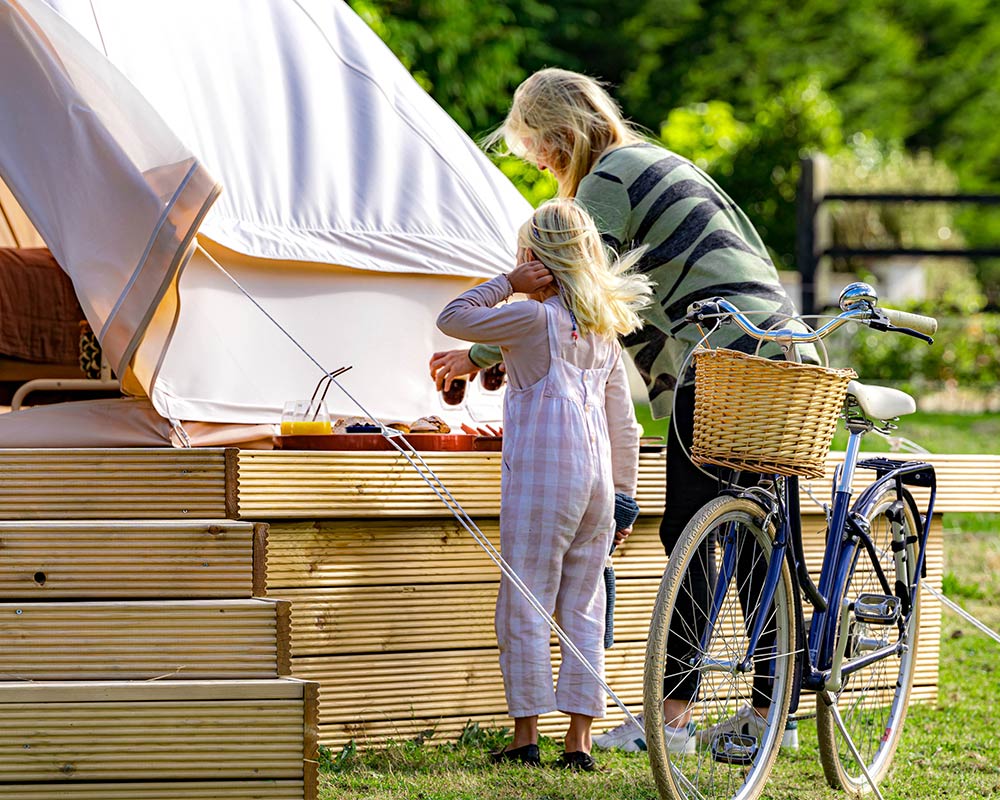 We are thrilled to offer our guests a unique camping experience that combines the best of both worlds – the natural beauty of the outdoors with the comfort and amenities of a luxury vacation.
Ferry House opened it's doors initially in 1992. The founders John and Sonia had a vision of people worldwide connecting to Ireland and what it has to offer through their ability and experience in hospitality.
Their daughter Lisa subsequently took on their vision and started to run the business.
Our glamping campsite is located in the heart of a mixed deciduous Irish forest, surrounded by natural beauty and just 50m from the Greenway entrance to Waterford (Currently under construction, but expected to open before the summer months).
At our campsite, we are committed to preserving the natural beauty of the area and take pride in our eco-friendly practices. We believe that camping should not come at the expense of the environment and strive to minimise our impact on the surrounding ecosystem. Our passion for hospitality, travel and meeting people from all over the world is what drove us from the beginning, and it continues to push us each year.
Founded on a family homestead within renovated stone buildings, the idea was bring a unique guest experience. The house was originally built as a coach-house and inn over 300 years ago. The house barn and stables were restored in 1992, resulting in a open-plan facility, surrounded by beautiful gardens, overlooking the River Barrow. 

Lovely setting with immaculate grounds ideal for the kids. Accommodation clean and cosy. Lovely host friendly and helpful – Gary, Ireland

Heavenly experience. Excellent property with wonderful location and above all the exceptionally warm and welcoming host… it feels like being in paradise with all that natural beauty around – Shikha, India

Very nice place and the owners were very friendly and even booked us a meal locally. Very roomy for the four of us – Michael, United Kingdom

Lisa our hostess was fantastic and our group had a delightful stay in her property. We will go back! The house settings are beautiful. The house has been renovated with taste and is comfortable. It would suit a young family as well as a group of friends, hikers, bikers, t would be suitable for retreats too, so a very versatile and comfortable place at the same time! – Veronique, Ireland

A place to relax and feel like home. The place was very nice and the host was very helpful and friendly. We really had a relaxing stay as the place also has a garden where you can relax and enjoy. Highly recommended to all holiday makers – Raquel, Ireland

Great location with a wonderful host – Rickie, United States

Very welcoming and relaxed. Great accommodation in lovely, peaceful surroundings. Very comfy beds – Lyn, United Kingdom

Great place and wonderful host Lisa. Beautiful house with everything you need inside – Agnieska, Poland